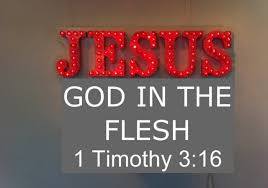 GOD-IN-THE-FLESH DEFINITION
The teachings of Jesus are so confusing that consensus on their meanings is very rare, and, often in God's "Word" (the New Testement) describes Jesus' very own disciples as not understanding his teachings (because they are contradictory?).
IS ALL SCRIPTURE INSPIRED OF GOD?
God said in his "Word" …
YES, INSPIRED OF GOD HIMSELF!
All Scripture is God-breathed and is useful for teaching, rebuking, correcting and training in righteousness, 2 Tim 3:16
NO. GOD SAID IN HIS "WORD"…
that the scriptures are NOT inspired of God himself.
In this self-confident boasting I am not talking as the Lord would, but as a fool. 2 Cor 11:17
I say this as a concession, not as a command. 1 Cor 7:6
To the rest I say this (I, not the Lord): If any brother has a wife who is not a believer and she is willing to live with him, he must not divorce her. 1 Cor 7:12
Now about virgins: I have no command from the Lord, but I give a judgment as one who by the Lord's mercy is trustworthy. 1 Cor 7:25
Then God said in his "Word" … that the scriptures
DO NOT BRING SALVATION.
You study the Scriptures diligently because you think that in them you have eternal life. These are the very Scriptures that testify about me, John 5:39
CHRIST'S WITNESS OF HIMSELF IS TRUE OR NOT TRUE.
TRUE
I am one that bear witness of myself. . . . Though I bear record of myself, yet my record is true. John 8:18, 14
NOT TRUE
If I bear witness of myself, my witness is not true. John 5:31
MESSIAH RESURRECTED?
None of the Biblical passages about the Messiah mentions that he will be resurrected from the dead. Even if someone is resurrected – this does not necessarily qualify him to be the Messiah. The prophet Elisha resurrected a child, and Jesus allegedly resurrected Lazarus. Does this qualify the child or Lazarus to be the Messiah? Just like the Christians say there are three persons in one God, does this now mean there are three persons in one Messiah also???
DO WE HAVE TO "ACCEPT" JESUS', OR IS HIS EFFECT AUTOMATIC?
God said in his "Word" that it is …
AUTOMATIC
The next day John saw Jesus coming toward him and said, "Look, the Lamb of God, who takes away the sin of the world! John 1:29
For what I received I passed on to you as of first importance: that Christ died for our sins according to the Scriptures, 1 Cor 15:3
For as in Adam all die, so in Christ all will be made alive. 1 Cor 15:22
"as in Adam all die, even so in Christ shall all be made alive,"
But we do see Jesus, who was made lower than the angels for a little while, now crowned with glory and honor because he suffered death, so that by the grace of God he might taste death for everyone. Heb 2:9, 17
comparing it to the Jewish high priest making atonement for all the people,
because the law brings wrath. And where there is no law there is no transgression. Rom 4:15
also Rom 5:12-19
no sin where there is no law given [contra: Rom 2:12], 1 John 1:7, 2:2, 1 Tim 4:10,
Jesus is savior of all, especially those who believe,
Consequently, just as one trespass resulted in condemnation for all people, so also one righteous act resulted in justification and life for all people. Rom 5:18
He died for all, the just and the unjust
For Christ also suffered once for sins, the righteous for the unrighteous, to bring you to God. He was put to death in the body but made alive in the Spirit. 1 Pet 3:18
Atonement sacrifices in the Old Testament were not conditional on repentance or acceptance
(e.g. Lev 16:16-18, 21, 24, 30, 34).
Then God said in his "Word" that … You …
MUST DO SOMETHING
(have faith, do good works, keep commandments, be baptized, or call on Jesus' name, or some combination) See following Section on Salvation.
WAS JESUS PERFECT?
God said in his word –
NO, JESUS SAID HE WAS NOT PERFECT
"Why do you call me good?" Jesus answered. "No one is good—except God alone. Mark 10:18
Jesus lied about going to a feast …
8 You go to the festival. I am not going up to this festival, because my time has not yet fully come." 9 After he had said this, he stayed in Galilee.

10 However, after his brothers had left for the festival, he went also, not publicly, but in secret. John 7:8-10
God said – he was in his "word"
YES, JESUS SINLESS
God made him who had no sin to be sin for us, so that in him we might become the righteousness of God. 2 Cor 5:21
but with the precious blood of Christ, a lamb without blemish or defect. 1 Pet 1:19
"He committed no sin,
and no deceit was found in his mouth." 1 Pet 2:22
All who have this hope in him purify themselves, just as he is pure. 1 John 3:3, 5
Noah was perfect
This is the account of Noah and his family. Noah was a righteous man, blameless among the people of his time, and he walked faithfully with God. Gen 6:9
FOR OR AGAINST JESUS:
FOR HIM
God said in his word – if you are not for him, you are against him.
"Whoever is not with me is against me, and whoever does not gather with me scatters. Matt 12:30
NOT AGAINST
God said – if you are not against him, you are for him.
for whoever is not against us is for us. Mark 9:40
??(The indifferent or the undecided don't know if the result is for or against.) ??
WHO IS GOD'S "FIRSTBORN"?
ISRAEL
Then say to Pharaoh, 'This is what the Lord says: Israel is my firstborn son, Ex 4:22
DAVID
And I will appoint him to be my firstborn,
the most exalted of the kings of the earth. Ps 89:27
God said –
JESUS
So he became as much superior to the angels as the name he has inherited is superior to theirs. Heb 1:4
Jesus has been found worthy of greater honor than Moses, just as the builder of a house has greater honor than the house itself. Heb 3:3
And he is the head of the body, the church; he is the beginning and the firstborn from among the dead, so that in everything he might have the supremacy. Col 1:18
JESUS' DEEDS
NOT WRITTEN
God said –The world could not contain the books if all his deeds were written of
Jesus did many other things as well. If every one of them were written down, I suppose that even the whole world would not have room for the books that would be written. John 21:25
WRITTEN
God said – His deeds have all been written of
In my former book, Theophilus, I wrote about all that Jesus began to do and to teach Acts 1:1
CHRIST INVISIBLE?
God said –Paul says no one has seen Christ, he is …
INVISIBLE
Now to the King eternal, immortal, invisible, the only God, be honor and glory for ever and ever. Amen. 1 Tim 1:17
who alone is immortal and who lives in unapproachable light, whom no one has seen or can see. To him be honor and might forever. Amen. 1 Tim 6:16
VISIBLE
??? But this contradicts all the gospels stories of Jesus.
SOLOMON
God-Jesus implies that he is
GREATER THAN SOLOMON
The Queen of the South will rise at the judgment with this generation and condemn it; for she came from the ends of the earth to listen to Solomon's wisdom, and now something greater than Solomon is here. Matt 12:42
The Queen of the South will rise at the judgment with the people of this generation and condemn them, for she came from the ends of the earth to listen to Solomon's wisdom; and now something greater than Solomon is here. Luke 11:31
NOT GREATER THAN SOLOMON
Old Testament says – But there could never be one greater than Solomon
I will do what you have asked. I will give you a wise and discerning heart, so that there will never have been anyone like you, nor will there ever be. 1 Kings 3:12
God gave Solomon wisdom and very great insight, and a breadth of understanding as measureless as the sand on the seashore. 1 Kings 4:29
King Solomon was greater in riches and wisdom than all the other kings of the earth. 24 The whole world sought audience with Solomon to hear the wisdom God had put in his heart. 1 Kings 10:23-24
King Solomon was greater in riches and wisdom than all the other kings of the earth. 23 All the kings of the earth sought audience with Solomon to hear the wisdom God had put in his heart. 2 Chron 9:22-23
BLOOD SACRIFICE
ATONEMENT FOR SIN
The keystone of Jesus' plan of salvation, according to NT, is the blood sacrifice of God's only begotten son, the Lamb of God, as the only acceptable atonement for Adam's sin.
NOT
Sacrifices do not atone for sin
Day after day every priest stands and performs his religious duties; again and again he offers the same sacrifices, which can never take away sins. Heb 10:11
JESUS ONLY BENEFITS THE UNCIRCUMCISED
Behold, I Paul, say to you, that if you be circumcised, Christ shall profit you nothing. [Gal 5:2]
It's righteous to be uncircumcised??? Here is God speaking in the Old Testament – –
This is my covenant which you shall keep between me and you and your seed after you: every man and child among you shall be circumcised. [Gen 17:10]
"SEEK, AND YE SHALL FIND"
YES
God said in his word – Seek and ye will find. , especially if you seek the Lord
"Ask and it will be given to you; seek and you will find; knock and the door will be opened to you. Matt 7:7
He went out to meet Asa and said to him, "Listen to me, Asa and all Judah and Benjamin. The Lord is with you when you are with him. If you seek him, he will be found by you, but if you forsake him, he will forsake you. 2 Chron 15:2
Those who know your name trust in you,
for you, Lord, have never forsaken those who seek you. Ps 9:10
Seek the Lord while he may be found;
call on him while he is near. Isa 55:6
You will seek me and find me when you seek me with all your heart. Jer 29:13
NO
God said – But Jesus' followers will not find him if they seek him
You will look for me, but you will not find me; and where I am, you cannot come." John 7:34
Once more Jesus said to them, "I am going away, and you will look for me, and you will die in your sin. Where I go, you cannot come." John 8:21
JESUS MESSAGE FOR WHO?
God said in his word – Jesus said his message was only for
ISRAEL
He answered, "I was sent only to the lost sheep of Israel." Matt 15:24
These twelve Jesus sent out with the following instructions: "Do not go among the Gentiles or enter any town of the Samaritans. 6 Go rather to the lost sheep of Israel. Matt 10:5-6
ALL NATIONS
God said – But then Jesus tells his disciples to preach to all nations
Therefore go and make disciples of all nations, baptizing them in the name of the Father and of the Son and of the Holy Spirit, Matt 28:19
TWO CLASSES
God said – Jesus says there are two classes, "other sheep I have, which are not of this fold"
I have other sheep that are not of this sheep pen. I must bring them also. They too will listen to my voice, and there shall be one flock and one shepherd. John 10:16
ABRHAM'S SEED
God said – Once you become a Christian you are "Abraham's seed"
If you belong to Christ, then you are Abraham's seed, and heirs according to the promise. Gal 3:29
NEW COMMANDMENT
God-Jesus says "love one another" And that it is a …
NEW COMMANDMENT
"A new command I give you: Love one another. As I have loved you, so you must love one another. John 13:34
If it was new, this would violate Deut 4:2 and 12:32.
Do not add to what I command you and do not subtract from it, but keep the commands of the Lord your God that I give you. Deut 4:2
See that you do all I command you; do not add to it or take away from it Deut 12:32
NOT NEW;
it is the Mosaic commandment "Love thy neighbor as thyself"
"'Do not seek revenge or bear a grudge against anyone among your people, but love your neighbor as yourself. I am the Lord. Lev 19:18
JOHN THE BAPTIST
NOT ELIJAH
John the Baptist says he's not Elijah
They asked him, "Then who are you? Are you Elijah?" He said, "I am not." "Are you the Prophet?" He answered, "No." ~ John 1:21
JESUS IS ELIJAH
And if you are willing to accept it, he is the Elijah who was to come. Matt 11:14
Jesus replied, "To be sure, Elijah comes and will restore all things.12 But I tell you, Elijah has already come, and they did not recognize him, but have done to him everything they wished. In the same way the Son of Man is going to suffer at their hands." 13 Then the disciples understood that he was talking to them about John the Baptist. Matt 17:11-13
NONE GREATER THAN JOHN THE BAPTIST
Jesus says that NO one yet born (including himself?) is greater than John the Baptist
Truly I tell you, among those born of women there has not risen anyone greater than John the Baptist; yet whoever is least in the kingdom of heaven is greater than he. Matt 11:11
THE LEAST IS JOHN THE BAPTIST
Yet the same verse (Matt 11:11) Jesus says John the Baptist is the least in the kingdom of heaven.
ASCEND TO HEAVEN
JESUS IS THE ONLY ONE EVER TO ASCEND TO HEAVEN
No one has ever gone into heaven except the one who came from heaven—the Son of Man John 3:13
AN UNNAMED MAN KNOWN TO PAUL ASCENDED TO HEAVEN,
"The time came when the beggar died and the angels carried him to Abraham's side. The rich man also died and was buried. Luke 16:22
Jesus also tells a parable in which Lazarus was in heaven
ELIJAH, ENOCH ALL ASCENDED TO HEAVEN.
As they were walking along and talking together, suddenly a chariot of fire and horses of fire appeared and separated the two of them, and Elijah went up to heaven in a whirlwind. 2 Kings 2:11
Enoch walked faithfully with God; then he was no more, because God took him away. Gen 5:24
By faith Enoch was taken from this life, so that he did not experience death: "He could not be found, because God had taken him away." For before he was taken, he was commended as one who pleased God. Heb 11:5
BLESSED VIRGIN MARY, MOTHER OF GOD
And how about Mary, the "Holy Blessed Virgin Mother of God?" …. she ascended (assumed) into heaven and didn't die … Mary's assumption into heaven was "assumed body and soul into heavenly glory". This doctrine was dogmatically defined by Pope Pius XII on 1 November 1950, in the apostolic constitution Munificentissimus Deus by exercising papal infallibility. The Pope pointed to Genesis 3:15 and 1 Corinthians 15:54.
And I will put enmity
between you and the woman,
and between your offspring and hers;
he will crush your head,
and you will strike his heel." Gen 3:15

When the perishable has been clothed with the imperishable, and the mortal with immortality, then the saying that is written will come true: "Death has been swallowed up in victory." 1 Corinthians 15:54
JESUS LIABLE TO THE HELL OF FIRE
SAY FOOL & YOU GO TO HELL
But whoever says: "You fool," shall be liable to the hell of fire."
But I tell you that anyone who is angry with a brother or sister[a][b] will be subject to judgment. Again, anyone who says to a brother or sister, 'Raca,'[c] is answerable to the court. And anyone who says, 'You fool!' will be in danger of the fire of hell. Matthew 5:22
JESUS CALLED MANY FOOLS
You [Pharisee] blind fools! For which is greater, the gold or the Temple that has made the gold sacred?"
You blind fools! Which is greater: the gold, or the temple that makes the gold sacred? Matthew 23:17
You blind men! Which is greater: the gift, or the altar that makes the gift sacred? Matthew 23:19
"You [Pharisee] fools! Did not he who made the outside make the inside also?" Luke 11:40
JESUS WAS THE RECIPIENT OF HIS OWN CURSE — "LIABLE TO THE HELL OF FIRE."
xxx
bp_accordion_section
Refer a friend